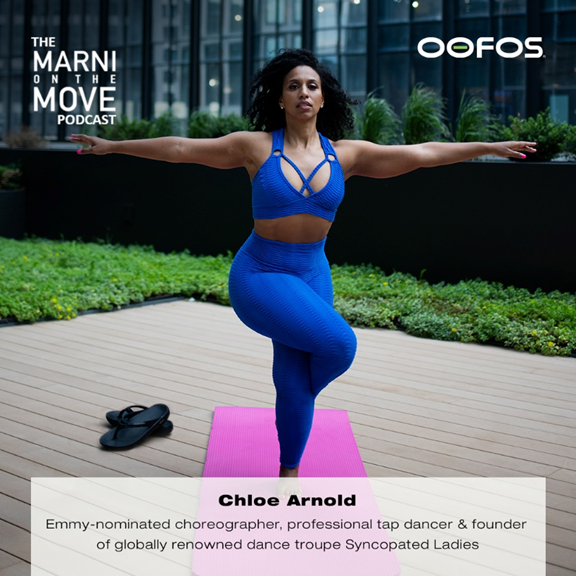 Enjoy this special mini-series in partnership with active recovery shoe brand, OOFOS.  In three inspiring and unique conversations, we will be highlighting OOFOS brand ambassadors from the worlds of dance, triathlon and wellness.
Today I sync up with Emmy Nominated Choreographer, Founder of hit female tap sensations Syncopated Ladies, and talented entrepreneur, Chloé Arnold.
Chloé's choreography has been featured on hit television shows such as So You Think You Can Dance, Good Morning America, The Ellen Show, The Talk, John Legend and Chrissy Teigen's A Legendary Christmas, and over 40 episodes of The Late Late Show With James Corden. The Syncopated Ladies have over 50 million views online, receiving praise from Beyonce, Whoopi Goldberg on The View, as well as many other celebrities and news outlets around the world. Chloé and her sister co-founded Chloé and Maud Productions, DC Tap Festival, and co-produced the award-winning documentary TAP WORLD with Hollywood Executive Producer Dean Hargrove.
On this episode Chloé  dials me in to the world of tap, how her career in dance and choreography began, and where she is now. We talk about our mutual love of OOFOS and when and where she connected with the game changing footwear brand. Chloé  shares how the shoes have changed her life and now play a major role in her active recovery routine and everyday movement, when shes not tapping!
We caught up just after she wrapped her new movie that she was choreographing starring Will Ferrell, Ryan Reynolds, and Octavia Spencer but just before she heads out on tour with the Syncopated Ladies in February 2022. I get the scoop on how Chloé is relaxing and rebooting at home. She shares how she plans to ramp up her training in preparation for her upcoming tour . We also sync up about just how important it is to do what you love and some big happenings Chloé is manifesting!
Get ready to be moved and inspired!
CONNECT
OOFOS on Instagram, Facebook, YouTube
Chloe Arnold on Instagram
Syncopated Ladies on Instagram
Marni On The Move Instagram, Facebook, TikTok, LinkedIn, or YouTube
Marni Salup on Instagram and Spotify
SUBSCRIBE
Sign up for our weekly newsletter, The Download for Marni on the Move updates, exclusive offers, invites to events, and exciting news!
RIDE WITH ME 
Meet me on Zwift, Strava, or Peloton
SUPPORT THE PODCAST
Leave us a review on Apple. It's easy, scroll through the episode list on your podcast app, click on five stars, click on leave a review, and share what you love about the conversations you're listening to.
Tell your friends to what you love on social. Screenshot or share directly from our stories the episode you're listening to, tag us and the guests, and use our new Marni on the Move Giphy!
SPECIAL THANKS
Emma Steiner for help with show notes, guest research, and social media.
Skye Menna for help with guest research and outreach, social media, and public relations