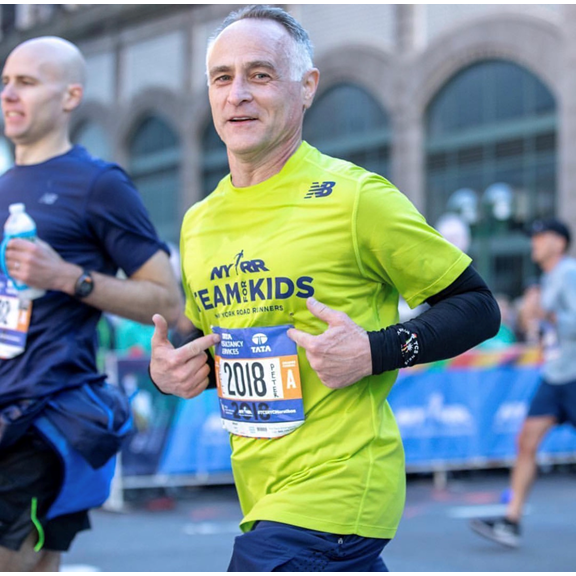 When today's guest signed up for his first New York City marathon in 1991, Michael Capiraso had no idea that he would run another 26 New York City marathons, nor did he know he would be President and CEO of New York Road Runners, the company that organizes this world famous marathon, The TCS New York City Marathon.  This is the magic of running!  You never know where it will take you but you can trust you will go places. All it takes is putting one foot in front of the other!
NYRR's mission is to help and inspire people through running. Since 1958, New York Road Runners has grown from a local running club to the world's premier community running organization. NYRR's commitment to New York City's five boroughs features races, community events, free youth running initiatives and school programs, the NYRR RUNCENTER featuring the New Balance Run Hub, and training resources that provide hundreds of thousands of people each year, from children to seniors, with the motivation, know-how, and opportunity to Run for Life. NYRR's premier event, and the largest marathon in the world, is the TCS New York City Marathon. Held annually on the first Sunday in November, the race features 50,000 runners, from the world's top professional athletes to a vast range of competitive, recreational, and charity runners.
On this epiode of Marni on the Move, Michael and Marni sync up about where his journey with running began and where it has taken him. They talk about some of the amazing initiatives he is working on at New York Road Runners from the NYRR Virtual Racing Series powered by Strava which launched in 2018, to the organizations senior Striders program, the NYRR Youth Program, and The TCS New York City Marathon!
As always, thanks for tuning in and all your great feedback on the podcast. I appreciate your DM's and questions on social, and keep those emails coming!  If you like what you hear, leave us a review on Apple Podcasts. It's easy, scroll though the list of Marni on the Move podcasts on your app, click on Write a review. Share what you like about the podcast, your favorite episodes, what inspires you.  Tell your friends to listen, email them a link, post it on your social platforms and tag Marni on the Move, and spread the love! Also, sign up for our newsletter The Download, to find out about upcoming events and summits this summer, great deals, offers, and giveaways!
Connect On Social
@NYRR on Instagram, Facebook, Twitter, and Strava 
@Michael Capiraso on Instagram 
@MarniOnTheMove Instagram, Facebook, or LinkedIn
Shop our Offers, Deals, and Favorite Products + Brands
Sign up for our Newsletter, The Download for Marni on the Move updates, exclusive offers, invites to events, and exciting news!