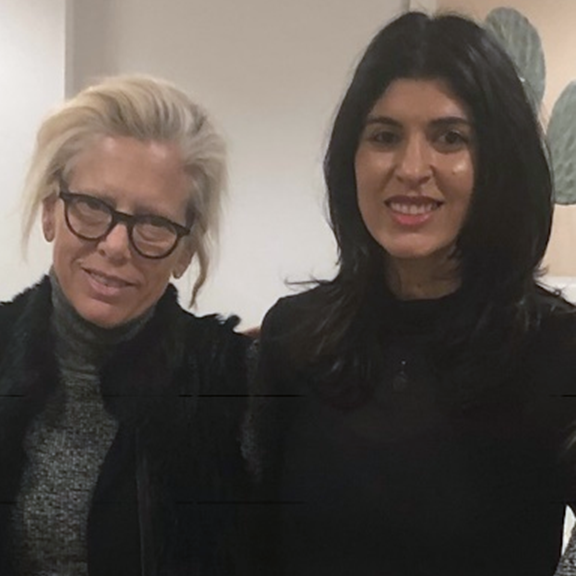 LIVE from NYC! Todays Marni on the Move LIVE episode is part of a Creative Conversation series, presented by Talenthouse at WeWork.
Get ready to be inspired and empowered by amazing entrepreneurial advice, insight and wisdom from Hinted Founder and CEO Lucy Danziger (also a former podcast guest), and Pretty Connected Founder + CEO, Lara Eurdolian.
Host Marni Salup , Lucy Danziger and Lara Eurdolian, sync up on the Marni On The Move podcast to talk about all things entrepreneurship including taking the leap to create your own brand, finding the balance between innovation and the process needed to grow a business, the importance of brand voice and authenticity, customer acquisition and audience development, staying relevant in an ever changing world, and of course, the exercise and wellness that fuel then for success.
Hinted is a very cool game-changing social shopping platform and app, designed to take the guess work out of gift giving and empower you with the tools you need to get everything you want in life! You can make a wish list of anything you desire-from a pair of shoes to a new watch, a vacation, your next triathlon bike, your favorite charity or even a puppy!
Pretty Connected® is an award winning, beauty, fashion, and lifestyle blog, What started as one of the first beauty blogs in NYC launching over a decade ago has now expanded as a multi-platform brand, and content across categories including fashion, lifestyle, pets and travel and a line of accessories, an on and more.
We hope you enjoy this special LIVE Marni on the Move episode. If you like what you hear, please leave us a five-star review on Apple Podcasts. Sign up for our newsletter, and follow us on social.
CONNECT ON SOCIAL
ABOUT TALENTHOUSE
Talenthouse is the largest global creative content ecosystem with 4M members spanning 175. countries. The company was founded with the goal of giving the independent creative entrepreneur, living in remote parts of the world an opportunity for their work to be seen or heard. For over 10 years they have kept this promise, because they believe cultural diversity means creative diversity. This allows brands from Porsche, Pepsi and Unilever to Warner Brothers, Absolut, Amazon and Google access to diverse, scalable creative storytelling in nearly every vertical in the imagination.