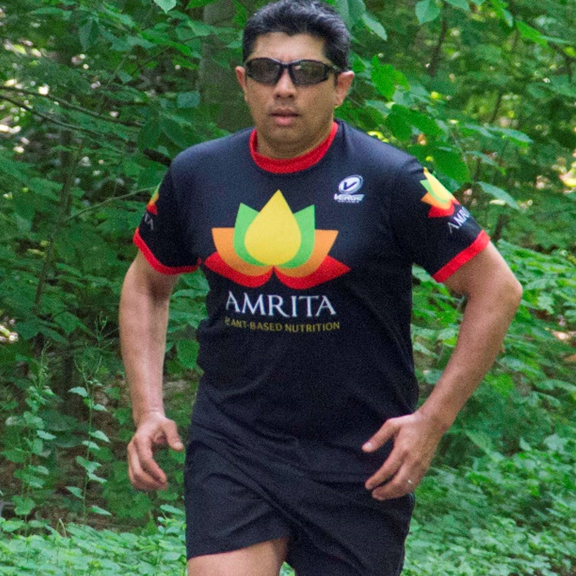 FLASHBACK FRIDAY: We are bringing you conversations from the archives of Marni on the Move, every Friday! For the month of July, you will hear from a few of our favorite wellness guests, stay tuned.
Arshad Bahl is the Founder + CEO of Amrita Foods,  the protein and energy bars that fuel my training and everyday life!  They  are delicious, packed with Superfoods and healthy ingredients like Quinoa, Chia Seeds Dates Coconut Oil, Sea Salt Maple Syrop, Cranberries, blueberries and more. They are dairy-free, gluten free, and vegan!
Hear the inspiring story behind the brand on this episode of Marni on the Move. Arshad shares where his entrepreneurial journey began, his philosophy around food as medicine, healthy fueling for athletics and life, and he offers great career and business insight and wisdom on building a brand, direct to consumers sales, influencer marketing and more. What began when his son was diagnosed with autism and severe gastrointestinal issues at the age of two as a  gluten-free and dairy-free nutrition program has blossomed into a popular healthy snack brand available in over 1,000 stores nationwide.
NEW + EXCITING AT AMRITA FOODS
Superfood Pantry Essentials, Paleo Bites, and Protein Bites 
CONNECT
Amrita Foods on  Instagram
MarniOnTheMove Instagram, Facebook, or LinkedIn
Marni Salup on Instagram
SHOP
Amrita Foods  is offering Marni on the Move listeners $10 off for anyone to get started. Use the code JUMPSTART upon checkout.
Head over to our SHOP page for additional offers from Marni on the Move partners, sponsors, and guests including Mad Ritual CBD balm, Navitas Organics, Sun Potion,and more.
SUBSCRIBE
Sign up for our monthly newsletter, The Download for Marni on the Move updates, exclusive offers, invites to events, and exciting news!
Check out past editions: January 2020, November 2019. August 2019  December 2018 November 2018
SHARE
Leave us a review on Apple. It's easy, scroll through the episode list on your podcast app, click on five stars, click on leave a review, and share what you love about the conversations you're listening to.
Tell your friends to what you love on social. Use our new Marni on the Move GIF in your Instagram Stories. Screenshot or share directly from our stories the episode you're listening to, tag us and the guests, and add our GIF.
#DOWHATMOVESYOU #GETMOVING #MARNIONTHEMOVE