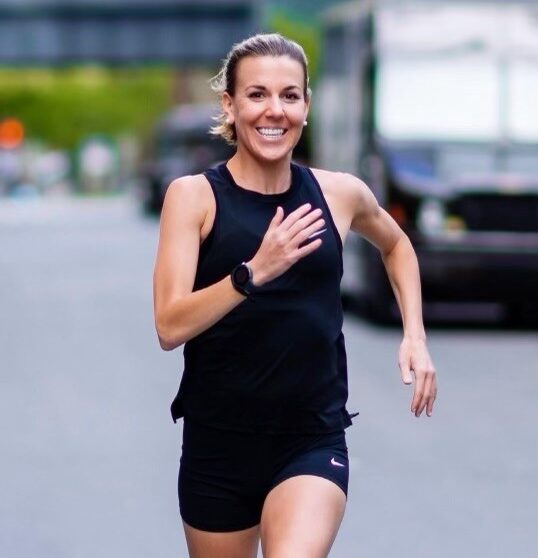 Today on the podcast I'm syncing up with Dr. Emmi Aguillard, PT, DPT, FAFS. She is a full-time physical therapist managing her own private practice that specializes in treating and training runners. She also has advanced training in pelvic health and works with women to maintain their optimal fitness during pregnancy and safely return to running after giving birth.  Dr. Aguillard earned her doctorate of physical therapy from Columbia University after graduating from Tulane University, where she competed for the women's NCAA Division I track and field and cross country programs. She completed her fellowship in applied functional science through the Gray Institute and has taken numerous courses through the Postural Restoration Institute. 
Beyond her physical therapy practice, she coaches runners on Team Wilpers and Dashing Whippets, the 900-member running team, creating strength programs and team training plans for road races ranging from 5K to marathon. Emmi has also been a contributing writer to Women's Health and Cooking Light and has a new book that EVERYONE needs to buy, Run Healthy! It is quickly becoming a resource in our house.
We dive into the convo talking about the Boston Marathon, which she had just finished, for the third time. We sync up about how she got into running, pursued a career in physical therapy and coaching and her new book, Run Healthy. We do a deep dive into a few popular running injuries Shin Splints & Plantar Fasciitis, and so much more
CONNECT
Dr. Emmi Aguillard, PT, DPT, FAFS on Instagram
Marni On The Move Instagram, TikTok, LinkedIn, or YouTube
Marni Salup on Instagram and Spotify
SUBSCRIBE TO OUR NEWSLETTER
Sign up for our weekly newsletter, The Download, for Marni on the Move updates, exclusive offers, invites to events, and exciting news!
OFFERS
CURED: Get 20% off today at www.curednutrition.com/Marni and use coupon code Marni at checkout
DeltaG: Get 20% off deltaG Ketones today at www.deltagketones.com use our code Marni20
InsideTracker: Get 20% percent off today at InsideTracker.com/marnionthemove
SUPPORT THE PODCAST
Leave us a review on Apple. It's easy, scroll through the episode list on your podcast app, click on five stars, click on leave a review, and share what you love about the conversations you're listening to. Tell your friends to what you love on social. Screenshot or share directly from our stories the episode you're listening to, tag us and the guests, and use our new Marni on the Move Giphy!