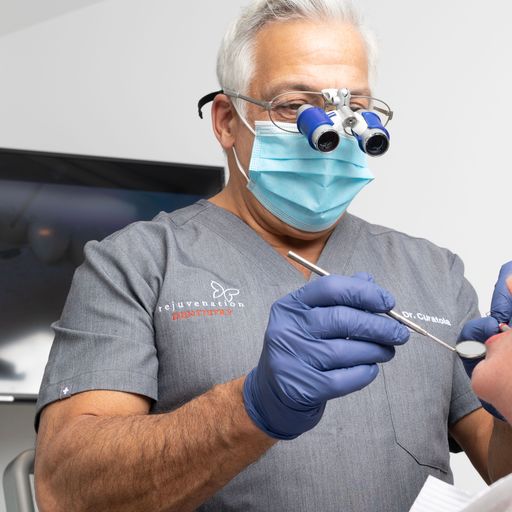 Today is the first of a three episode series on oral health with Dr. Gerry Curatola,  world renowned, paradigm shifting biologic dentist and a global healthcare thought leader and pioneer. He is the bestselling author of The Mouth-Body Connection, Co-Founder of oral care company and prebiotic toothpaste, Revitin®, Founder of  Rejuvenation Dentistry®, a multi-specialty integrative dental practice in New York City based on the principles of bioregulatory healthcare, and he is the Founder of medical and wellness center, Rejuvenation Health, in East Hampton.
We are talking about the importance of having a healthy oral microbiome, the toxic chemicals in modern day toothpaste, the good ingredients to look for and his game changing toothpaste Revitin,  and the four cornerstones of oral Health. Dr. Curatola was on the podcast on episode 22 back in 2018 and he is my go-to for all things oral health and dentistry, including immediately texting him, then  racing to his office after my bike crash this summer to evaluate my teeth.
Gerry Curatola, D.D.S., has established the oral microbiome as the next frontier for health and wellness with his book, The Mouth-Body Connection: The 28-Day Program to Create a Healthy Mouth, Reduce Inflammation and Prevent Disease Throughout the Body. Based on new scientific research and Dr. Curatola's 30 years of clinical practice, The Mouth-Body Connection explains why the gums truly are the gateway to overall health—and provides an evidence-based approach for readers to use this cutting-edge knowledge to improve their own health.
CONNECT
Rejuvenation Dentistry on Instagram
Dr. Gerry Curatola On Instagram
Marni On The Move Instagram, Facebook, TikTok, LinkedIn, or YouTube
Marni Salup on Instagram and Spotify
OFFERS
Vela: Get $350 off your bike purchase. Use our code, MarniOnTheMove at Vela.Com
HigherDOSE: Get 15% off on today at HigherDOSE with our code MOTM15.
InsideTracker: Get 20% percent off today at InsideTracker.com/marnionthemove
Revitin is a prebiotic toothpaste. Get 15% off and use our code Marni15 at Revitin.com
SUPPORT THE PODCAST
Leave us a review on Apple. It's easy, scroll through the episode list on your podcast app, click on five stars, click on leave a review, and share what you love about the conversations you're listening to. Tell your friends to what you love on social. Screenshot or share directly from our stories the episode you're listening to, tag us and the guests, and use our new Marni on the Move Giphy!
SUBSCRIBE TO OUR NEWSLETTER
Sign up for our weekly newsletter, The Download, for Marni on the Move updates, exclusive offers, invites to events, and exciting news!