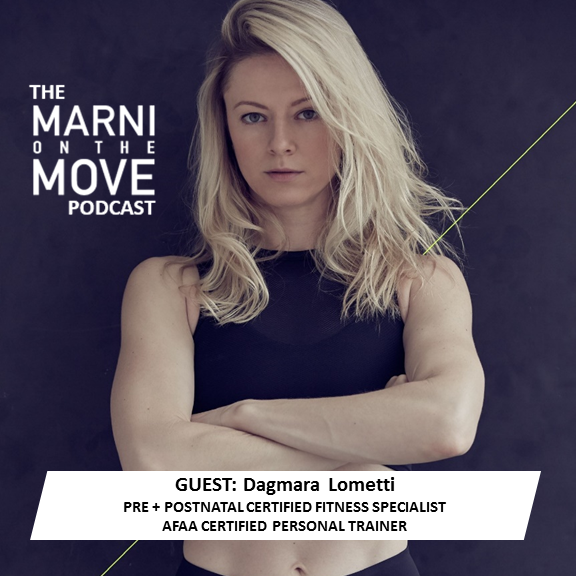 Today on the podcast I sync up with celebrity personal trainer and Pre & Postnatal Certified Fitness Specialist, and AFAA Certified Personal Trainer Dagmara Lometti.  Dagmara and I met at her group fitness class at the Rumble studio opening in NYC. Within weeks, she quickly became known for her high octane sold out classes, but when the pandemic forced studios to shut down, Dagmara was quick to shift gears, and with athleticism in her DNA, pivoting was seamless.
For the last few years, Dagmara has become a go-to pre and postnatal trainer for women looking to prepare for what she calls the sport of childbirth and beyond. Dagmara is a mother of two adorable daughters, Blake and Cameron, and when we recorded this episode, she was weeks away from giving birth to Cameron.  During our conversation, Dagmara offers insight into her overall pre and postnatal training philosophy and shares her own personal training  routines while pregnant, how she continued to integrate running throughout her pregnancy,  and how she plans to rebuild slowly back to her usual strength training.
CONNECT
Dagmara Lometti on Instagram
Marni On The Move Instagram, Facebook, TikTok, LinkedIn, or YouTube
Marni Salup on Instagram and Spotify
SUBSCRIBE
Sign up for our weekly newsletter, The Download for Marni on the Move updates, exclusive offers, invites to events, and exciting news!
TRAIN WITH ME 
Meet me on Zwift, Strava, or Peloton
OFFERS
Take control of your health and wellness journey with InsideTracker, the ultra-personalized nutrition platform that analyzes your blood, DNA, and lifestyle to help you optimize your body from the inside out. Transform your body's data into meaningful insights and a customized action plan of the science-backed nutrition recommendations you need to optimize your health!  Get 25% percent off today at InsideTracker
SUPPORT THE PODCAST
Leave us a review on Apple. It's easy, scroll through the episode list on your podcast app, click on five stars, click on leave a review, and share what you love about the conversations you're listening to.
Tell your friends to what you love on social. Screenshot or share directly from our stories the episode you're listening to, tag us and the guests, and use our new Marni on the Move Giphy!