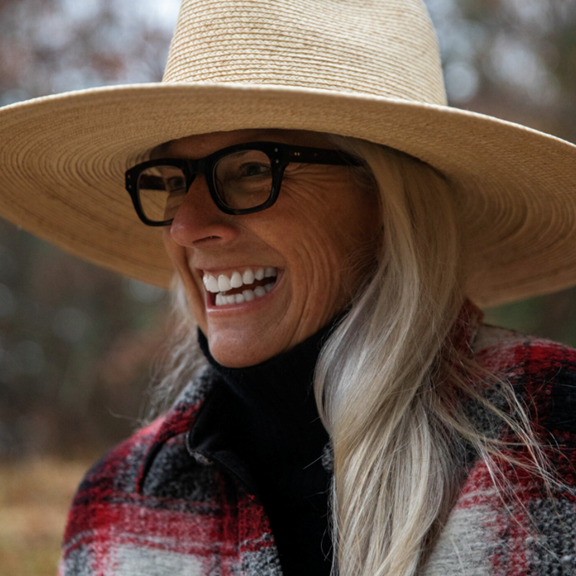 Today on the podcast, I sync up with the talented and visionary, Libby DeLana.  10 Years ago, Libby started a daily walking meditation, today she has walked the circumference of the earth.
Libby is an award-winning executive creative director, designer /art director by trade, who has spent has spent her career in the ad world. She was the Director of Design at MullenLowe for 15 years, then went on to co-found the agency Mechanica. She is an advocate for female leadership, an aspiring pilot, a rookie fly fisher, and author of Do/Walk, her first published book that came out this year.
During our conversation today, we sync up about the inspiration behind her walking mediation practice, the idea behind her book, and how walking has transformed her life.  Libby shares how walking is a creative practice, a way to experience the environment and wake up your senses, and also a way to find momentum. Libby does a deep dive into all of this in her new book, Do/Walk. Walking is only one of her many explorative, adventurous hobbies. Libby talks about her passion for fly fishing and flying. Of course we chat about her long career in the advertising world and some great career lessons she has learned along the way.
Libby's work has been featured in The One Show awards (USA) CannesLions, and in publications including D&AD, Fast Company, Graphis, and Communication Arts. She has been profiled by the BBC Radio 4 series The Chain and several podcasts.
For many years, Libby has been a big advocate of developing more female leadership and talent in and outside of the ad industry. She has also served as a mentor to the 3% conference,  is on the board of directors for Newburyport's Jeanne Geiger Crisis Center, is a wild advocate and avid volunteer at The Do Lectures, and is on the board of directors of BlinkNow, Maggie Doyne's foundation which provides an education and loving, caring home to orphaned, impoverished and at risk children in Surkhet, Nepal.
CONNECT
Libby DeLana on Instagram and LinkTree
Marni On The Move Instagram, Facebook, TikTok, LinkedIn, or YouTube
Marni Salup on Instagram and Spotify
SUBSCRIBE
Sign up for our weekly newsletter, The Download for Marni on the Move updates, exclusive offers, invites to events, and exciting news!
RIDE WITH ME 
Meet me on Zwift, Strava, or Peloton
OFFERS
Take control of your health and wellness journey with InsideTracker, the ultra-personalized nutrition platform that analyzes your blood, DNA, and lifestyle to help you optimize your body from the inside out. Transform your body's data into meaningful insights and a customized action plan of the science-backed nutrition recommendations you need to optimize your health!  Get 25% percent off today at InsideTracker with our code CHEERSMARNI
Head over to our SHOP page for additional offers from Marni on the Move partners, sponsors, and guests
SUPPORT THE PODCAST
Leave us a review on Apple. It's easy, scroll through the episode list on your podcast app, click on five stars, click on leave a review, and share what you love about the conversations you're listening to.
Tell your friends to what you love on social. Screenshot or share directly from our stories the episode you're listening to, tag us and the guests, and use our new Marni on the Move Giphy!