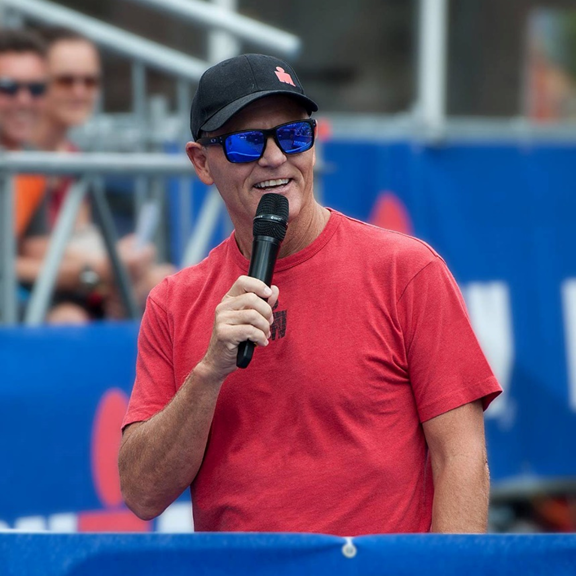 Today on the Marni on The Move  podcast I am joined by world-renowned IRONMAN race announcer, Mike Reilly, also known as the Voice of IRONMAN. Mike is the author of Finding My Voice, and host of the Find Your Finish Line Podcast. If you are just tuning in, this is episode three of our six episode triathlon series here on the pod. Mike has announced over 200 IRONMAN Races, so the odds are, if you finished one of these incredible events, Mike has announced your name as your crossed the finish line. If you are like me on the 70.3 circuit, be prepared to start looking for your first IRONMAN
On this episode of Marni on the Move, I sync up with Mike to about his legendary announcing career and where it all began, We talk about his foray into triathlon aand what the scene was like when he startedvs wgere it is now. Mike shares favorite memories from his decades-long career being the voice that motivates and excites racers as they conquer the course. (Including the famous Iron War race with triathlon icons Mark Allen and Dave Scott)
Mike also  talks about his own exercise and wellness routines, how his family is passionate about sports and how he loves what he does. Mike was every bit as energetic and enthusiastic in person as he is over the microphone. I think he might even have motivated me to take on the full IRONMAN sooner than I planned!
CONNECT
IRONMAN on Instagram, Facebook Watch, YouTube
Mike Reilly on Instagram
Marni On The Move Instagram, Facebook, TikTok, LinkedIn, or YouTube
Marni Salup on Instagram and Spotify
SUBSCRIBE
Sign up for our weekly newsletter, The Download for Marni on the Move updates, exclusive offers, invites to events, and exciting news!
RIDE WITH ME 
Meet me on Zwift, Strava, or Peloton
OFFERS
Take control of your health and wellness journey with InsideTracker, the ultra-personalized nutrition platform that analyzes your blood, DNA, and lifestyle to help you optimize your body from the inside out. Transform your body's data into meaningful insights and a customized action plan of the science-backed nutrition recommendations you need to optimize your health!  Get 25% percent off today at InsideTracker with our code CHEERSMARNI
Head over to our SHOP page for additional offers from Marni on the Move partners, sponsors, and guests
SUPPORT THE PODCAST
Leave us a review on Apple. It's easy, scroll through the episode list on your podcast app, click on five stars, click on leave a review, and share what you love about the conversations you're listening to.
Tell your friends to what you love on social. Screenshot or share directly from our stories the episode you're listening to, tag us and the guests, and use our new Marni on the Move Giphy!
SPECIAL THANKS
Emma Steiner for help with show notes, guest research, and social media.
Skye Menna for help with guest research and outreach, social media, and public relations