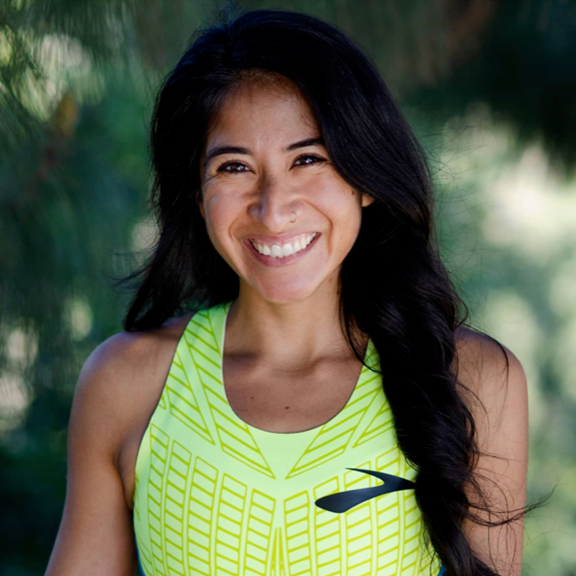 Grace Gonzales is a professional distance runner, U.S. Olympic Marathon Trials finisher, and member of Angel City Elite, the women's distance running team based out of Los Angeles, on a mission to increase BIPOC representation in the running community. Angel City Elite was officially founded in 2021 in affiliation with Brooks Running.  Having run her first marathon in fourth grade, Grace is truly an expert at the sport.
On this episode of Marni on the Move, Grace and I chat about growing up in a family passionate about running, the importance of the running in her culture as an indigenous person, and how she uses the sport as a moving meditation. We also sync up about her quick pivot, transitioning her training from marathons to track events during the COVID-19 pandemic, what it's like working with Angel City Elite, and how she's inspiring more people from diverse backgrounds to embrace running and fitness. We also connect about our shared passion for yoga, and sync up about the similarities between running and yoga. Grace talks about how she uses the mindfulness practices she teaches as a yoga instructor to improve her mental game on the run.
CONNECT
Grace Gonzales on Instagram
Angel City Elite on Instagram
Brooks Running on Instagram
Marni On The Move Instagram, Facebook, or YouTube
Marni Salup on Instagram and Spotify
JOIN ME on IG LIVE 6/3/21 Thursday Night 9pm EST with Betty Designs Founder + CEO, Kristen Mayer
SUBSCRIBE
Sign up for our weekly newsletter, The Download for Marni on the Move updates, exclusive offers, invites to events, and exciting news!
TRAIN
Meet me on Zwift, Strava, or Peloton
OFFERS
Take control of your health and wellness journey with InsideTracker, the ultra-personalized nutrition platform that analyzes your blood, DNA, and lifestyle to help you optimize your body from the inside out. Transform your body's data into meaningful insights and a customized action plan of the science-backed nutrition recommendations you need to optimize your health!  Get twenty percent off today at InsideTracker with our code THANKYOUMOTM.
Belcampo is offering MOTM listeners 20% Off from May 11th, 2021 through June 25th, 2021 with code MARNI on their website, Belcampo.com
Lifepro is offering MOTM listeners 10% off products with the code MOVE10.
Art of Tea is 0ffering MOTM listeners 15% off (excluding gift cards, Tea of the month, subscriptions, and any wholesale orders) through July 2021. Use this code at checkout MARNIONTHEMOVE15
Head over to our SHOP page for additional offers from Marni on the Move partners, sponsors, and guests including Navitas Organics, Sun Potion, Amrita Health Foods and more.
SUPPORT THE PODCAST
Leave us a review on Apple. It's easy, scroll through the episode list on your podcast app, click on five stars, click on leave a review, and share what you love about the conversations you're listening to.
Tell your friends to what you love on social. Screenshot or share directly from our stories the episode you're listening to, tag us and the guests, and use our new Marni on the Move Giphy!
SPECIAL THANKS
Emma Steiner for help with show notes, guest research, and social media.
Skye Menna for help with guest research and outreach, social media, and public relations